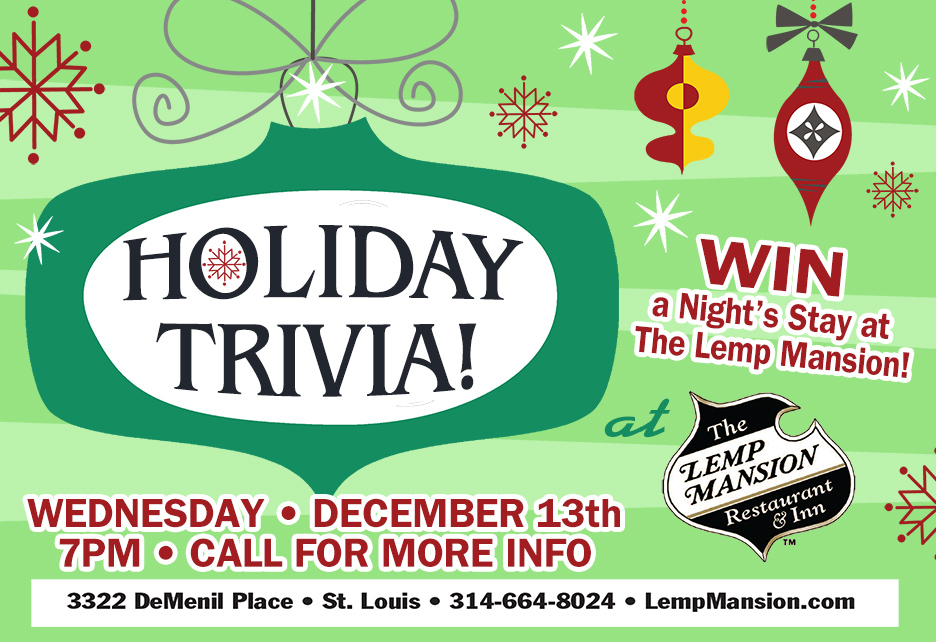 Holiday Trivia Night at Lemp Mansion

It's Holiday Trivia Night 2017!
Wednesday, Dec. 13th, 7 p.m.
Team tables will seat four and seating is limited. The cost for the evening is $40 a table. A special appetizer menu will be available.
The evening will feature 5 rounds of questions that may include general trivia, current events, local and Lemp history in the categories.
There will be a prize for each round's winning table, and the grand prize for the table with the highest score at the end of the evening will be a certificate for an overnight stay for four people in the Louis and Frederick suites at the Lemp Mansion!
Don't miss out. Get your team together and make your reservations today!
Reservations required. Call for information, (314) 664-8024

*Pricing does not include tax.
The Lemp Mansion Trivia Events
Lemp Mansion Trivia Events are perfect for a friendly gathering (birthday, anniversary, bachelorette, holiday party) or a corporate event or team-building exercise.
Call and ask about reserving a Trivia Event, (314) 664-8024.
---
Contact us for more information.