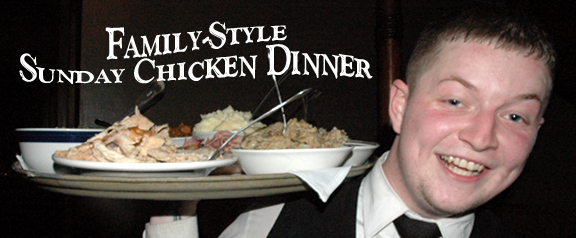 Sunday Chicken Dinner at Lemp Mansion Restaurant

Bring the Family and Enjoy Our Famous All-You-Care-To-Eat Sunday Chicken Dinner
A Lemp Mansion Sunday tradition, our Family-Style Chicken Dinner was the first meal ever served by the Mansion, and continues to be shared by generations of St. Louisans. $17.95* per person. Please call if you would like more information.
FEATURING:
Pan Fried Chicken,
Pineapple Glazed Ham, Roast Beef,
Mashed Potatoes, Milk Gravy,
Macaroni and Cheese,
German Style Green Beans,
Whole Kernel Corn, Stewed Cinnamon Apples,
Marinated Vegetable Salad, Cole Slaw,
Buttermilk Biscuits
*Call for holiday pricing.
---
Restaurant Hours:
WEEKDAY LUNCH: Mon - Fri., 11:00 a.m. - 2:30 p.m.
SUNDAYS-Family-Style All-You-Care-To-Eat Chicken Dinner, 11:30 a.m. - 8:00 p.m.
SEASONAL DINNER HOURS:
SEPT. - DEC.: Tues. - Sat., 5:30 p.m. - 10:00 p.m.
JAN. - AUG.: Thur. - Sat., 5:30 p.m. - 10:00 p.m.

---
GO TO:
Sunday All-You-Care-To-Eat Family-Style Chicken Dinner
---
Contact us for more information.